Industrial Manufacturing Capabilities:
Custom Plastic Injection Molding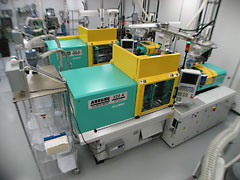 ITW Medical is a custom molder manufacturing complicated geometries and complex shapes. Our experienced manufacturing staff utilizes state-of-the-art technology to meet the customer's most challenging design demands. ITW Medical maintains flexible manufacturing cells to respond to each customer's needs proactively.
Flexible Molding Capacity
ITW Medical injection molding presses range from small 10-ton clamping force machines to sizeable 300-ton clamping force machines. These machines range from vertical to horizontal molding machines for both straight and insert injection molding. These molding machines also range from hydraulic to all-electric machines. They incorporate the latest technology regarding control panels and operator interfacing.
ITW uses the latest technology when it comes to pressure control. Cavity pressure transducers are used to help monitor and control the injection process, and sensors are tied into automation for improved quality control.
Post Injection Molding Automation
Post-molding automation is a crucial asset of ITW Medical. Assembly equipment, vision system equipment, and ultrasonic and spin welding equipment help provide more options for our customer base regarding assembled components.
Clean Room Manufacturing
ITW Medical includes globally distributed 100,000 Clean Room-certified manufacturing facilities enabling cost-effective delivery of sterile components and devices to meet each customer's logistics requirements.